Positive results for stable at Hawkesbury trials (Mon 14th Nov)
Nov 15, 2016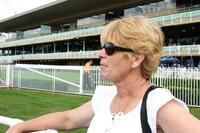 Wanda and the stable were over the moon with the results of Monday's trails at Hawkesbury (14/11/16). With 5 runners being put through their paces all performed really well and pleased all. Perhaps most impressive was Williamson's win over 760m in a field of 7, however it seems that all are on track for some positive results in the near future. The 5 were:
Rapa Nui - 2nd of 5 runners over 1000m - first run since Nov15. Very pleasing effort.
Prince Memnon - 2nd of 4 runners over 760m but kept on a firm hold. Coming along really well.
Williamson - 1st of 7 over 760m - flew the barriers and never headed - kept under a firm hold.
Zuza Faf - 4th of 6 over 760m and needed the hitout although not asked to do too much.
Fairy Shadow - 2nd of 5 runners over 760m in equal fastest trial. Again, kept under a firm hold.
Thanks to Grant Buckley who rode all 5 on a busy morning.